Excessive Suds in a Front Load Washer
Last updated
How to Eliminate Excessive Suds in my Maytag Front Load Washer
Did you use High Efficiency (HE) detergent?
Use only High Efficiency (HE) detergent. Using non-HE detergent or more than the manufacturer's recommended amount of detergent can cause excessive suds. The excess suds can cause the washer to run at a reduced spin speed, which will result in very wet loads. It can also increase the cycle time due to an increase in rinses trying to eliminate the suds.
If you see "Sud" or "Sd" with the Rinse status light on, the washer is in the process of removing suds. Let the cycle continue.

If you see "Sud" or "Sd" and the Cycle Complete light is on, the washer detected too many suds during the cycle and your load may not be fully rinsed or water may not be fully removed. You may want to select a Rinse/Spin cycle for further rinsing.
W
atch the video below for more information about using HE detergent:
Did you use "no splash" or "easy pour" liquid chlorine bleach?
This type of liquid chlorine bleach contains a thickening agent that may create excess suds in washers. If this is the case, run the washer empty, using regular liquid bleach products, or clean with affresh® washer cleaner before running another load.
Clean with affresh® washer cleaner
Use affresh® washer cleaner every 30 days to keep washer fresh and reduce detergent build up.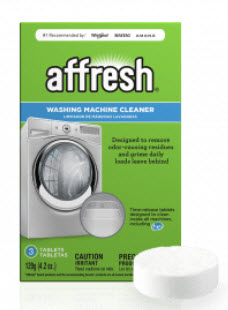 affresh® cleaners are available at many retailers. Find one here.
If you would like to download or view product literature for your appliance, please visit our Manuals and Literature page.