Reasons to Buy a Dishwasher with a Water Softener
Last updated
Reasons to Buy a Maytag Dishwasher with a Water Softener
Facts about hard water:
Dishwasher detergent manufacturers are removing phosphates that optimize hard water's ability to clean dishes.
More cities are cutting back on water softening in their water supplies.
Hard water causes problems for dishwashers by staining and leaving mineral deposits.
Hard water affects cleaning performance and also builds up in water lines reducing the life of your dishwasher.
A dishwasher water softener eliminates problems associated with hard water without the cost and hassle of a whole house system.
Benefits of buying a dishwasher water softener :
No investment in whole-house softener and having to carry heavy bags of salt.
Optimizes cleaning ability of water without the needs for phosphate.
Eliminates clouding and streaking of glasses caused by hard water.
Eliminates hard water stains and deposits in dishwashers.
Note: Refill salt only when the "Refill Salt" LED or the salt refill symbol is lit. Do not use salt tablets or any salt other than dishwasher water softening salt.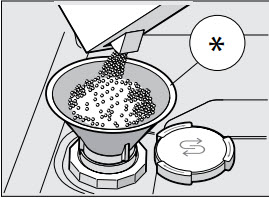 If you would like to download or view product literature for your appliance, please visit our Manuals and Literature page.