Cleaning the Dishwasher Interior
Last updated
How to Clean the Maytag Dishwasher Interior
Don't just clean the dishes — take the time to ensure the dishwasher interior is clean too. When it's time to clean the dishwasher, keep in mind the following cleaning tips for dishwashers.
Dishwashers should be cleaned approximately every 30 days for optimal performance. Using affresh® Dishwasher Cleaner every month will help keep your dishwasher from filming and spotting, and the interior clean and free of odors.
Extremely hard water mineral deposits can cause damage to your dishwasher and make it difficult to achieve good cleaning. A water softener is strongly recommended if your hardness is 15 grains or more.
If a water softener is not installed, try one of the following:
Using affresh® dishwasher cleaner:
Use affresh® Dishwasher Cleaner to remove white spots and film. Depending on the severity of the spots more than one treatment may be required.
Follow instructions on the affresh® Dishwasher Cleaner package.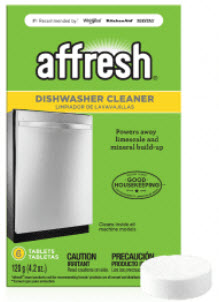 Cleans even where you can't see
affresh® cleans deep inside your appliances reaching components such as the tub, racks, pump, valves, drain, and recirculation hoses.
Cleaners are available at many retailers or can be purchased here.
Use a white vinegar rinse:
Put 2 cups (500 mL) white vinegar in a glass or dishwasher-safe measuring cup on the bottom rack.
Run the dishwasher through a complete washing cycle using an air-dry or an energy-saving dry option. Do not use detergent. Vinegar will mix with the wash water.
NOTE: Vinegar is an acid, and using it too often could damage your dishwasher. It's better to do so only when you need to deeply cleanse your dishwasher.
Below are links to other articles that may be helpful in keeping your dishwasher clean and fresh: