Cleaning Fingerprint Resistant Stainless Steel - Top Freezer Refrigerator
Last updated
Possible Solutions
How to Clean Fingerprint Resistant Stainless Steel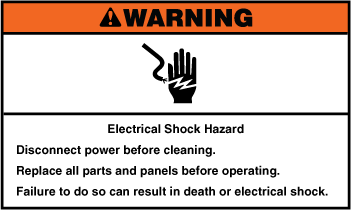 Wash the exterior surfaces and gaskets with warm water and mild soap or detergent. Wipe and dry. We recommend using a clean microfiber cloth or a soft clean cloth to polish and dry. Ensure that all surfaces are thoroughly dry.
IMPORTANT: To avoid damage to the finish, do not use soap-filled scouring pads, abrasive or harsh cleaners, any cleaning product containing chlorine bleach, steel-wool pads, gritty washcloths or paper towels. Using these types of products may scratch and/or dull the clear coat of the fingerprint stainless steel door. Damage due to caustic or corrosive environments such as high salt, high moisture, or high humidity environments is not covered under warranty.
Still need help? Contact us or schedule service.
Please contact us or click below to make an appointment from our preferred list of service providers for service on your appliances.
Interested in purchasing an Extended Service Plan?
Please click below to learn more on how you can save up to 25% on New Appliance Extended Service Plans within 30 days of your appliance purchase.