Installing the Bins and Shelves
Last updated
How to Properly Install Bins and Shelves in Your Maytag Refrigerator
The bins or shelves may not open or close properly if they have not been installed correctly. Read the following tips to ensure shelves and bins are steady in your refrigerator.
To put the crisper drawer or shelf in the correct position in your full-size refrigerator:
Pull the drawer or shelf out to full extension
Tilt up the front of drawer or shelf, and pull to remove.
Replace the drawer or shelf into the frame rails and push it back into place.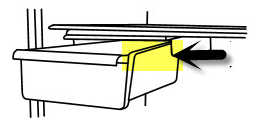 To check if a lighted shelf is properly installed in your full-size refrigerator, check the following:
Shelf hooks are fully engaged in the shelf support — check that the rear shelf hooks are completely seated into the slots in the shelf supports
Shelf supports, fastened to the back wall of the refrigerator cabinet, are loose — check all shelf support screws to ensure they are fully tightened, tighten if needed
To remove and replace a shelf or shelf frame, follow these instructions:
Remove the shelf/frame by tilting it up at the front and lifting it out of the shelf supports
Replace the shelf/frame by guiding the rear shelf hooks into the shelf supports
Tilt the front of the shelf up until rear shelf hooks drop into the shelf supports
Lower the front of the shelf and make sure that the shelf is in position
If you would like to download or view product literature for your appliance, please visit our Manuals and Literature page.