Doors Not Aligned - Chest and Upright Freezers
Last updated
Possible Solutions
Why is it important to level and align the doors properly?
A freezer that is not leveled correctly and/or does not have the doors properly aligned may cause the following:
Doors unable to close or seal properly

Frost build-up
Temperature fluctuation
Door switch is unable to make contact correctly
Is the freezer level?
It is important to ensure the freezer is level before aligning the doors. A properly leveled freezer will help with overall proper operation of the freezer. Please refer to your Owner's Manual or Installation Instructions for specific leveling information for your freezer.
In addition to your Owner's Manual and Installation Instructions, here are some other tips for leveling the freezer:
Use a level to make sure the freezer is level from side to side and front to back.
Check to make sure the floor under the freezer is also level. If the floor is not level shims may need to be used.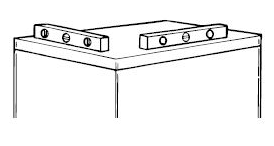 Are there any food items being stored in the doors?
The freezer doors are designed to be slightly different heights when the freezer is empty, in order to account for the weight of food that will be placed on the doors. Adding food to the doors will help properly align the doors.
Are the doors adjusted properly?
Once the freezer is properly level, front to back and side to side, the doors can be adjusted. Instructions on adjusting the doors on your freezer can be found in the Owner's Manual or Installation Instructions.
If you would like to download or view product literature for your appliance, please visit our Manuals and Literature page.
Still need help? Contact us or schedule service.
Please contact us or click below to make an appointment from our preferred list of service providers for service on your appliances.