Trash Compactor Will Not Start or Operate
Last updated
Maytag Trash Compactor Will Not Operate
If you compactor will not operate or turn on, there are a few things to try before calling for service. Check the following:
Did you press "On" before pressing Start?
Some models have to be turned to the "On" position before it will operate. Press the "On" button before pressing Start (on some models). See your Owner's Manual to determine which model you have.
Is the power supply cord unplugged or household fuse blown, or has a circuit breaker tripped?
Plug into a grounded 3 prong outlet. Replace the fuse or reset the circuit breaker. If the problem continues, call an electrician.
Is the key-knob turned all the way to Start?
Turn the key-knob (key-switch) fully to Start and release (on some models).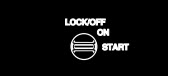 Is the drawer completely closed?
Firmly close the drawer and start the compactor again. During compaction, certain loaded items could be forced towards the front of the door which could cause the door to open slightly. If you cannot get the door fully closed, you may need assistance from a local service provider.
If you would like to download or view product literature for your appliance, please visit our Manuals and Literature page.