Odor and Smells - Disposer
Last updated
How to Clean your Maytag Food Disposer to Remove Odor
CLEANING DISPOSER
Over time, food particles may accumulate in the grinding chamber and baffle. An odor from the disposer is usually a sign of grease and food buildup., caused by insufficient water flow during and after disposer use.
There are 3 ways to clean a disposer to help remove odors:
Use affresh® Disposer Cleaner (W10135699)
Follow baking soda procedure below
Grind Citrus peelings
affresh® method (recommended):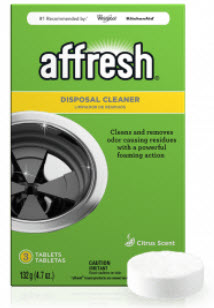 Turn on hot water to low flow.
Place 1 affresh® Tablet in the disposer.
Turn on disposer for 15 - 30 seconds; Foam may rise.
Turn off disposer.
Rinse any remaining foam down the drain.
Cleans even where you can't see
affresh® cleans deep inside your appliances reaching components such as the tub, racks, pump, valves, drain, and recirculation hoses.
Cleaners are available at many retailers or can be purchased here.
Baking Soda Method:
Turn off the disposer and disconnect the power supply.
Reach through sink opening and clean underside of splash baffle and inside upper lip of grind chamber with scouring pad.
Place stopper in the sink opening and fill the sink halfway with warm water.
Mix 1/4 cup baking soda with water. Turn disposer on and remove the stopper from the sink at the same time to wash away loose particles.
Citrus Peelings Method:
Grind your citrus peelings in your disposer on a regular basis for a fresh fruity scent.
Always run cold water with your disposer and allow water to run for at least 15 seconds after grinding is complete.
If you have other questions regarding cleaning your disposer, see your Owner's Manual.
Still need help? Contact us or schedule service.
Please contact us or click below to make an appointment from our preferred list of service providers for service on your appliances.
Interested in purchasing an Extended Service Plan?
Please click below to learn more on how you can save up to 25% on New Appliance Extended Service Plans within 30 days of your appliance purchase.