Water Usage in a Top Load HE Washer
Last updated
Water Usage or Low Water in your Maytag Top Load HE Washer
Water Usage:
Newer Top Load washers do use considerably less water than older traditional washers. Cycles such as Heavy Duty or Bulky items will fill with more water than the more energy efficient cycles, such as normal. Load Size selection will also change the amount of water.
During rinse, most cycles use a spray rinse. However, by using the Fabric Softener option, or the Extra Rinse option, the washer will use a deep fill rinse.
NOTE: Cycles are designed for specific clothing items, and using them other than instructed in the Owner's Manual may result in less than optimal performance.
NOTE: Using these cycles may increase the amount of time and energy used, and may not meet the standard Energy Star® Standards.
Run a Clean Washer Cycle
If you feel that the washer level is lower than when you first started using this washer, try running a Clean Washer cycle. This cycle re-calibrates the control, and resets it back to the factory-set water levels. You should run this cycle approximately 1 time per month (using the Affresh® Washer cleaner), and this will re-calibrate the control every time the Clean Washer cycle is used. Always run a Clean Washer cycle empty. Remove all clothing items before running a Clean Washer cycle.
You can run this cycle anytime (without using Affresh®) if you feel the water level needs to be re-calibrated.
Cleans even where you can't see
affresh® cleans deep inside your appliances reaching components such as the tub, racks, pump, valves, drain, and recirculation hoses.
Cleaners are available at many retailers or can be purchased here.
Below illustrates how HE washers work compared to traditional filling washers: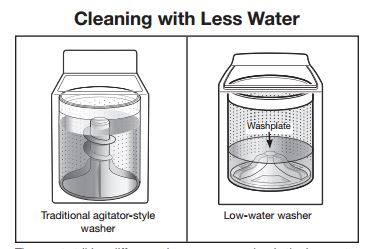 For best performance, it is recommended to load items in loose heaps evenly around the washplate. Do not overload the washer.
As the washer dampens and moves the load, the level of the items will settle in the basket. This is normal, and does not indicate that more items should be added.
IMPORTANT: You will not see a washer basket full of water as with your past agitator-style washer. It is normal for some of the load to be above the water line.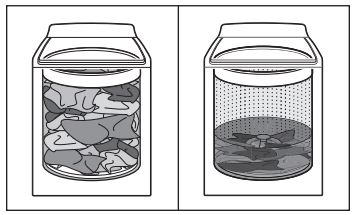 Watch the video below for more information on how HE washers work using less water:
If you would like to download or view product literature for your appliance, please visit our Manuals and Literature page.