Unlocking a Front Load Washer Door When it is Locked at Install
Last updated
Maytag Front Load washer door locked at install
If you have unboxed your front load washer to find that the door is locked and you are unable to open it, please review the following instructions.
Plug the appliance into a grounded 3 pronged outlet per the installation instructions. After plugging the washer in one of the following 3 events will happen:
The door may immediately unlock.
The door lock LED light will blink. The door should unlock after 60 seconds. Nothing else will appear to be happening with the machine during this time.
The washer will go into a hold and drain routine for 8 minutes. After 8 minutes the door will unlock. During this period you will be able to hear the pump running. The drum will not spin. Caution: Residual water may be pumped from the drain hose. Please be sure the drain hose is installed in a drain or there is a tub / bucket to catch any residual water.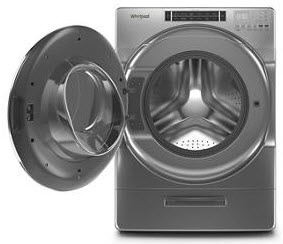 If the door of the washing machine does not unlock after any of the above 3 events, contact customer service to schedule a service call by an authorized service technician.
If you would like to download or view product literature for your appliance, please visit our Manuals and Literature page.