Cleaning Washers with affresh®
Last updated
Using affresh® Washer Tablet Cleaners in my Maytag Washer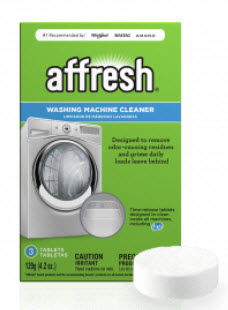 Keeping your washer fresh and clean will help keep your clothing fresh and clean. It is recommended that you clean your washer approximately once a month to prevent detergent and fabric softener residue from building up. We recommend using the affresh® washer cleaning tablets once a month.
When using the affresh® tablets, do not place them in any dispenser. For front loading machines, place 1 tablet inside the washer drum. For top loading machines, place 1 tablet at the bottom of the wash basket. If your machine has a "Clean Washer" cycle, use this as it is set to use more water than normal cycles. It is also set to use hot water, which will allow the tablets to dissolve at the proper timeframe. The affresh® tablets are designed to dissolve slowly throughout the Clean Washer cycle to give a long thorough cleaning.
If you washer does not have a "Clean Washer" cycle, use the highest water level available, and the hottest water temperature. Remove all clothing before starting the cycle.
Follow the directions on the affresh® package. At the end of Clean Washer cycle, if you notice the tablet has not completely dissolved, check the following:
Age of tablets - they do have an expiration date and will not be as effective after the expiration date.
Water needs to be the hottest available. Run hot water in the sink closest to your washer to flush hot water through the water lines.
Do not stop the "Clean Washer" cycle - do not open the door or lid during the cycle.
affresh® cleaners are available at many retailers. Find one here.
If you would like to download or view product literature for your appliance, please visit our Manuals and Literature page.