Not Heating - Electric Dryer
Last updated
Possible Solutions
Is the Lint Screen Clean?
The lint screen will be located either on top of the dryer or in the door opening of the dryer. A screen blocked by lint can increase drying time. It is important to clean your lint screen after every use.
The lint screen should also be cleaned of detergent/fabric softener residue occasionally. Click the link below for more information.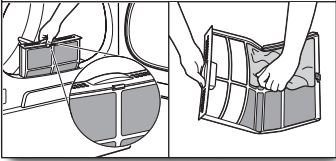 CLICK HERE for more information on cleaning the lint screen.
A dryer vent test, part #W11224254, is available for all dryers. This vent test kit will help you to determine if the venting is restricted and needs to be cleaned. To order, contact Customer Service.
Is the house vent crushed?
Rigid or Flexible metal venting is recommended for use on all dryers. Other materials (aluminum foil, plastic) are NOT recommended because they can easily collapse or be crushed. See images below:
CLICK HERE for more information on symptoms of a blocked (crushed) vent
CLICK HERE to watch a video on crushed venting information
Verify house vent is clear of obstruction
If a dryer is heating, but still has long dry times, the likely cause is a vent issue. Standard dryers must have airflow to the outside in order for clothing to dry.
CLICK HERE for more information on symptoms of a blocked vent
Before calling for service, check your house vent going to the outside. Make sure that the vent material is not crushed or kinked. Verify that the vent is clear of lint or other obstructions. Clean venting the entire length starting at the back of the dryer to where it exits your home. View the image below: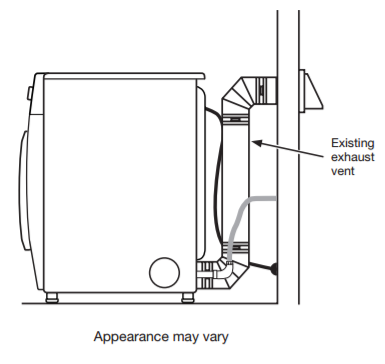 Is the vent length and elbows are correct?
The vent system chart below provides venting requirements that will help achieve the best drying performance.
Replace any plastic or metal foil vent with a rigid or flexible heavy metal vent.

Use only 4" diameter heavy metal exhaust vent material. Larger or smaller diameter material will reduce good air movement and cause longer drying times.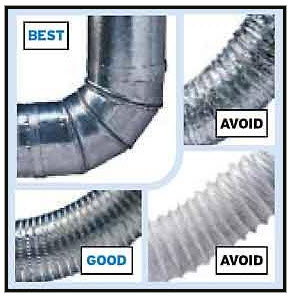 Verify outside Exhaust Hood is not blocked or restricted
Exhaust hoods must be at least 12" (305 mm) from the ground or any object that may obstruct exhaust (such as flowers, rocks, bushes, or snow).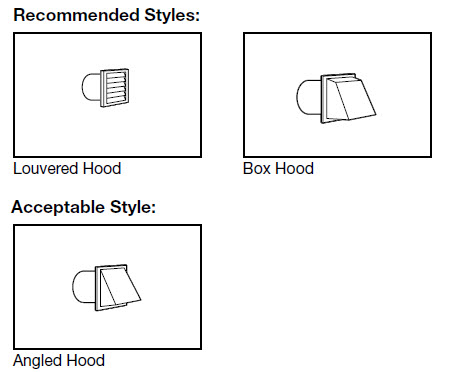 It is possible for debris, such as animal nests, to cause an obstruction in the venting. Clear all debris from the hood, and attached venting.
CLICK HERE to watch a video about how to check your outside vent
Still need help? Contact us or schedule service.
Please contact us or click below to make an appointment from our preferred list of service providers for service on your appliances.
Interested in purchasing an Extended Service Plan?
Please click below to learn more on how you can save up to 25% on New Appliance Extended Service Plans within 30 days of your appliance purchase.
Still need help? Call or schedule service.
You may need assistance from a qualified technician. Call 1-800-344-1274 or click below to schedule an appointment.