Check Vent light is on for Maytag Dryers
Last updated
Check vent light is on for your Maytag Dryer
What is my Check Vent Light?
The Check Vent Light is located on the console of the dryer (see diagrams below) and indicates that dryer airflow is restricted. Your dryer requires adequate air flow to ensure proper performance and dry times.
To resolve the issue and ensure good airflow follow these steps:
Look behind the dryer and ensure that the venting is not crushed. If the venting it crushed, replace it with rigid or flexible metal venting. Allow a minimum of 4" between the dryer and the wall when reinstalling the unit to prevent further crushing.
Check that the vent hood on the exterior of the house is not clogged or being blocked by landscaping.
Clean internal house venting; this may require a Vent Cleaning service person depending on venting installation. This cleaning is not covered by warranty and will not be performed by an Appliance Service Technician.
Replace plastic or foil vent material with 4" (102 mm) diameter rigid or flexible metal vent material.
Use the shortest length of vent possible.
Use as few 90° elbows in the vent system as possible; each bend and curve reduces airflow.
Clear items away from the front of the dryer.
Maytag Maxima Console Example (consoles vary model to model)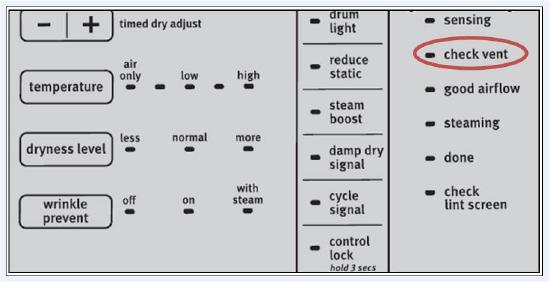 Maytag Bravos Console Example (consoles vary model to model)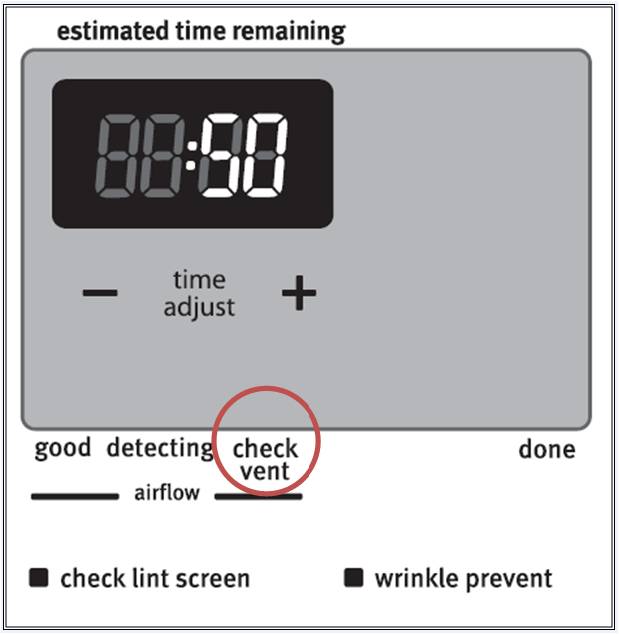 NOTE: Some models have a check lint screen light in addition to the check vent light. The check lint screen light will come on after every cycle as a reminder to clean the lint screen. The check vent light will come on due to an air restriction only.
For more information on your specific model features, see your Owner's Manual.
If you would like to download or view product literature for your appliance, please visit our Manuals and Literature page.