How to Dry Section - Dryer
Last updated
Possible Solutions
Start from the Home screen and you can select the "How to Dry":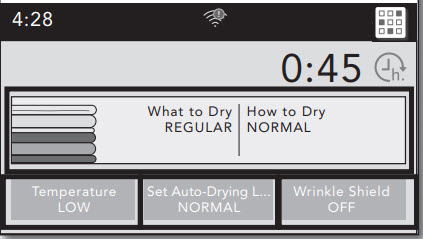 "How to Dry" cycle selections
Following are the available cycle selections:
Normal
Wrinkle Shield
Heavy Duty
Sanitize
Timed Dry
Quick Dry
You may have to scroll up or down to see all the available cycles.
Automatic Cycles
You can select a different dryness level, depending on your load. Touch SET AUTO-DRYING LEVEL, then touch the screen to choose between More, Normal, or Less to adjust the dryness level at which the dryer will shut off. Dryness level can be changed in the first 5–8 minutes of the cycle. Automatic cycles give the best drying in the shortest time. Drying time varies based on fabric type, load size, and dryness setting.
NOTE: Automatic cycles will give you up to four temperatures to adjust, depending on the "What to Dry" or "How to Dry" selections that have been made.
Timed Dry Cycle
When you select Timed Dry, the default time appears in the display. To change the drying time, touch TIMED DRY or QUICK DRY, then touch the screen to choose a new drying time. The default temperature may be changed by touching TEMPERATURE, then touching the screen to adjust the temperature.
Wrinkle Shield™
The Wrinkle Shield™ option will periodically tumble the load after the end of the cycle for up to 150 minutes. Touch WRINKLE SHIELD option, then touch "ON" to activate this option. Wrinkle Shield™ option may be ended at any time by touching the "X" on the touch screen to the right of the estimated time remaining.
NOTE: Not all "How to Dry" cycles may be available with all "What to Dry" cycles. For instance, Heavy Duty is not available when you have selected Delicates for "What to Dry".
See your Owner's Manual if you have questions about using these cycle selections.
If you would like to download or view product literature for your appliance, please visit our Manuals and Literature page.
Still need help? Contact us or schedule service.
Please contact us or click below to make an appointment from our preferred list of service providers for service on your appliances.