None of the Burners are Lighting - Gas and Dual Fuel Range
Last updated
Possible Solutions
Has a household circuit breaker(s) tripped or fuse(s) blown?
Reset the circuit breaker(s) or replace the fuse(s). If the problem continues, call an electrician.
Are the burner ports clogged?
Clean clogged burner ports with a straight pin, needle, or small-gauge wire as shown.
Do not use a wooden toothpick, it can break off and prevent proper gas flow.
Do not clean in the dishwasher.
Do not enlarge or distort the port.
Is the burner base & burner cap positioned properly?
Cap must be seated on the burner base to light and perform properly. Typical burners shown below: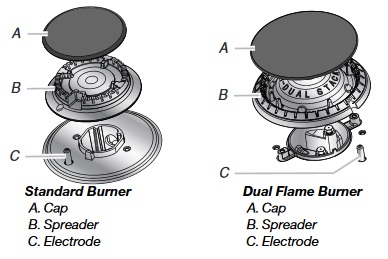 Burner cap: Always keep the burner cap in place when using a surface burner. A clean burner cap, especially the bottom of the cap, will help avoid poor ignition and uneven flames. Always clean the burner cap after a spillover and routinely remove and clean the caps.
Be sure the correct burner cap is on the correct burner base. The burner base and the underside of the burner cap may have a mark indicating which burner cap and burner base match as shown below.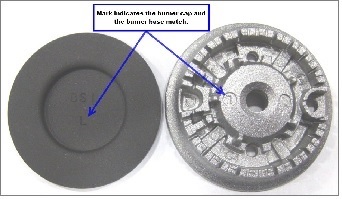 Reinstall the burner cap; making sure the alignment pins(if present) are properly aligned with the burner cap as shown below. The burner cap should fit flush with the burner base and have a very little side to side movement.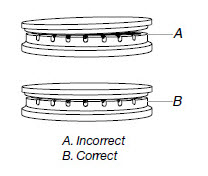 CLICK HERE for more information on proper installation of all gas burners
Has the range been recently installed or re-connected to the gas supply?
Turn on any one of the surface burner knobs to release air from the gas lines.
Is the main gas valve turned ON?
Verify the main gas valve is ON.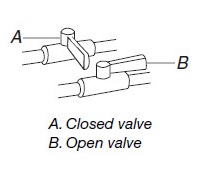 CLICK HERE for more information on surface burners, not lighting.
Still need help? Contact us or schedule service.
Please contact us or click below to make an appointment from our preferred list of service providers for service on your appliances.
Interested in purchasing an Extended Service Plan?
Please click below to learn more on how you can save up to 25% on New Appliance Extended Service Plans within 30 days of your appliance purchase.
Still need help? Call or schedule service.
You may need assistance from a qualified technician. Call 1-800-344-1274 or click below to schedule an appointment.