None of the Burners are Lighting - Gas Cooktop
Last updated
Possible Solutions
NOTE: If the cooktop has a lockout feature the surface burners will not light during a power failure.
Check the power to the cooktop
Plug the power cord into a grounded, three(3) prong, outlet with a dedicated circuit (120V receptacle for gas cooktops).
Check for tripped circuit breaker or a blown fuse. Reset the circuit breaker(s) or replace the fuse(s). If the problem continues, call an electrician.
Check the gas supply
If the cooktop was recently installed turn one of the surface burners, for a moment, to release potential air from the gas line.
Verify the main gas valve is ON.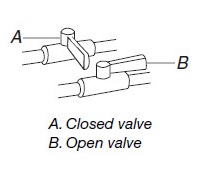 Still need help? Contact us or schedule service.
Please contact us or click below to make an appointment from our preferred list of service providers for service on your appliances.
Interested in purchasing an Extended Service Plan?
Please click below to learn more on how you can save up to 25% on New Appliance Extended Service Plans within 30 days of your appliance purchase.
​
​ ​